Murray McPhie – Loft Report
This is a report of Murray McPhie (Muzza), one of our Australian members.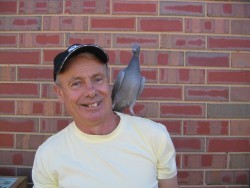 Getting into pigeons:
Murray first got into pigeons at about 11 years old. He said he pestered his parents until his father gave in and put up a little loft that was bolted to the back fence. This was soon filled with an assortment of pigeons, including a few cast off racers. This gave Murray a great insight to keeping pigeons and the seed was sown.
At the age of 15 Murray left home and became an apprentice jockey, so the pigeons had to go and it would be many years before he was able to start keeping them again.
Murray did make a return to pigeons when in New Zealand in his early 40s after getting remarried. A little loft measuring 2 meters x 1.7 meters was built which was soon converted into a little widowhood loft with 9 nest boxes, 3 boxes high x 3 boxes wide. It was a good loft too and flying too it went well.
Murray and his wife then moved to Australia in the middle of 2006, so once again the pigeons had to go.
In 2009 Murray built a new house and immediately started planning to re-start with the pigeons. At this time his wife assured him that this was not going to happen. Not to be deterred Murray sneaked a baby home and installed him in the garage. Then a little loft was built.

The Loft:

The loft is 2.4 meters x 1.8 meters. It has a very high pitched roof and ventilation is from under the floor at the back. The loft was built in sections in the garage before being erected.
There are 6 nest boxes and 8 perches on one side and 16 perches on the other. There are also 2 big stock boxes behind the loft.
.
The smart looking loft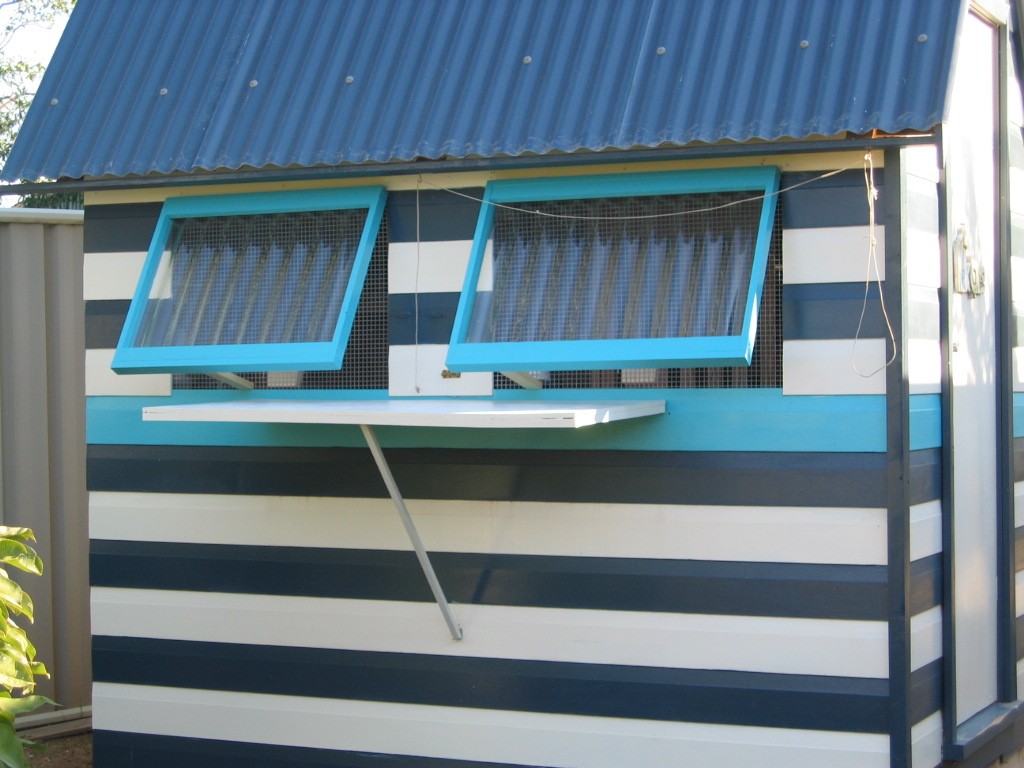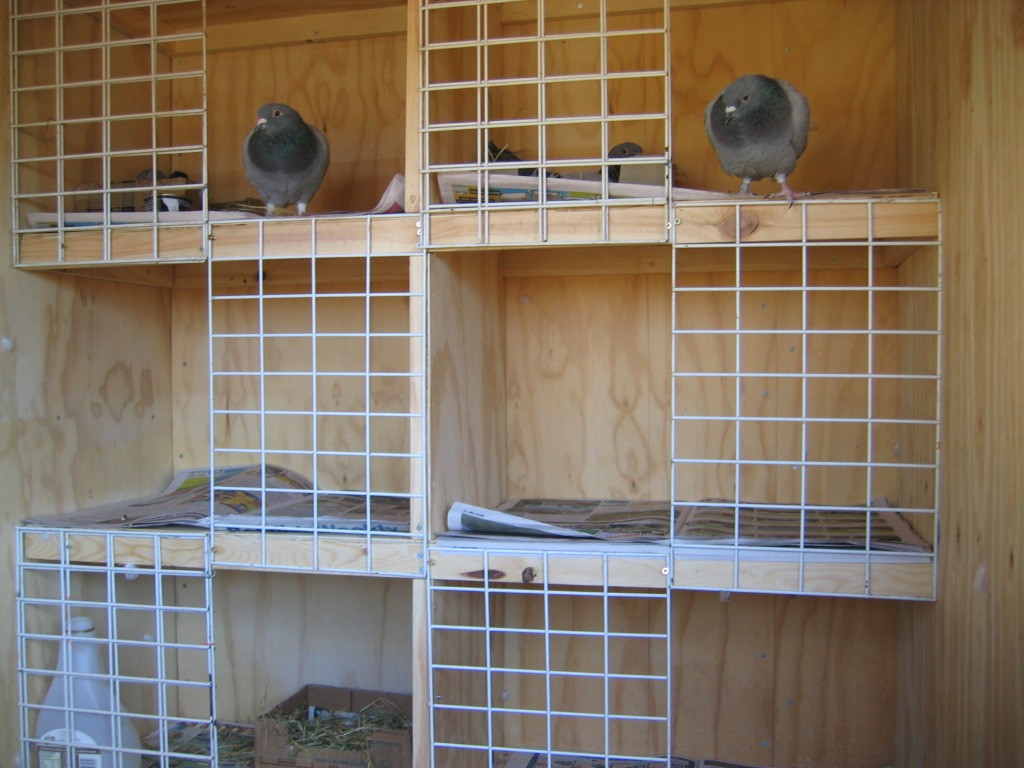 Racing:

Murray says that he does prefer sprint racing with widowhood cocks. "They are like little machines when they are in top form" A widower would be sent to the longer races if he was still racing well, but had lost a yard or two of speed in the sprint races.
In New Zealand Murray would try to get the widowhood cocks ready for the start of the season and would be sent every week for about the first 6 weeks, up to 150 miles. Once they started going across the water to the North Island he would often pair them up and race them on natural.
Murray says that he also enjoys racing the young birds. He thinks the long young bird races are very good for the young hens, "it sorts them out and helps with selection at the end of the year"
He used to like racing the whole of the young bird program, stopping the most promising cocks after several races and putting them aside for the widowhood loft.
Racing in Australia is a bit different. There is no separate OB and YB program. They like to start the season somewhere mid winter and race for around 20 weeks into the early summer.
This year the season is scheduled to start on July 13th. In Northern Hemisphere seasons it would be like us starting on January 13th.

Birds enjoying a bath both inside and outside the loft.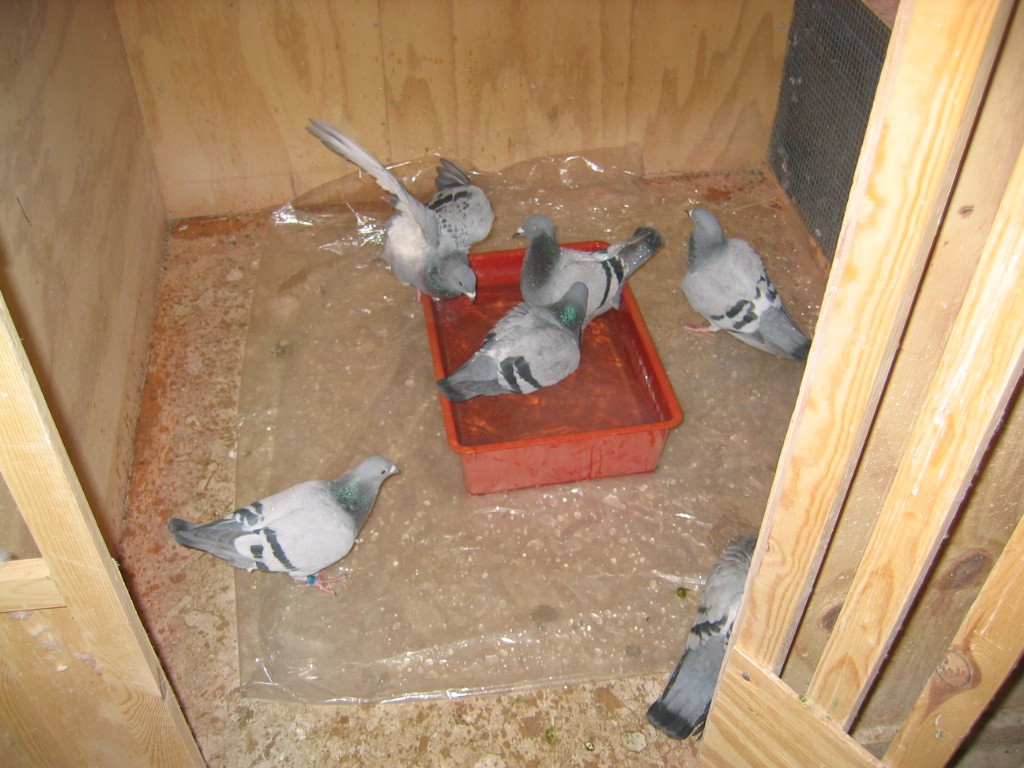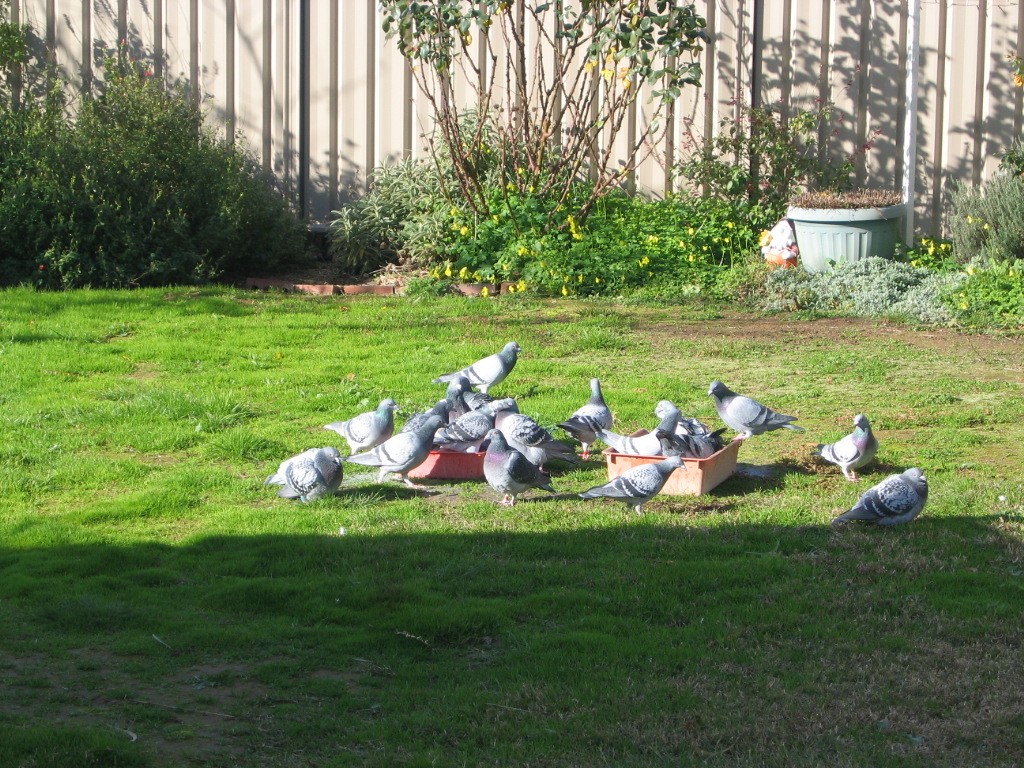 Youngsters:

As racing in Australia is different from in the UK, with young birds and old birds racing together, breeding is a bit different.
Murray bred around 22 youngsters last spring. At present Murray has about 16 of these left, with a few lost for various reasons, so with the old birds he has a team of around 25. Not many by Australian standards as big teams are the norm.
As their racing starts around mid winter, these youngsters will be between 8 to 10 months old.
A lot of people there breed much later with youngsters only being 5 to 6 months old at the start of the season and will then fly them right through the program out to 800 or 1000 kilometers (497 to 621 miles)
Murray says that it is very much a one season and replace method.

Feeding:

The pigeons are fed a basic mix mostly, made up of equal parts of Peas, Maize, Milo, Wheat, ½ part Safflower and a bit of Black Sunflower. When raising youngsters they may get a pot of peas in each box and when racing the mix may be fiddled with a bit.
Murray has a view that what you are feeding is always less important than what you are feeding it to.
Every weekend fresh vegetables are put into a blender and a couple of bowls full are put on the floor, "They love them, it's a great source of vitamins and nutrients missing from a grain diet",

Treatments:

Murray used to follow what was known as a 'health program', where the pigeons were treated for Canker, Cocci, Respiratory disease and Worms at set times. Now he has gone away from that. No medication is used now apart from the rare worming. He now has pigeons in the shed that are 4th generation without being treated with antibiotics. As a result he feels that the pigeons are naturally very healthy. When the Rota Virus epidemic swept through last year fanciers were reporting deaths in huge numbers. Murray says that he had a loft full of very unwell birds, but not one looked like dying and after a week all came right again. The pigeons are kept as naturally healthy as possible at all times with the loft kept clean and dry.
Natural apple cider vinegar is put in the water at a rate of 10mls to 3 litres of water. A crushed garlic clove is also put into the water for the afternoon every weekend.

Some memorable pigeons:

Murray remembers a little Staff Van Reet widower he once had. He was an average young bird, long and thin and looked like he just wanted some time to develop. So was put aside to do just that. "proved to be a good move"
As a yearling he had 5 races in 5 weeks and was 2nd 131km, 2nd 131km, 1st 244km, 1st 244km, 1st 244km and 4th fed (about 1500 pigeons). This was even better as Murray was the shortest flyer and way out to one side of the fed. The following week he came home second with his front all opened up, and that as they say was that. "What a great little pigeon he was"
Another pigeon that Murray fondly remembers is the one that won him the first race he entered after moving to Australia. It was a sprint race that Murray won with a yearling cock that was sent sitting. The yearling won this race by a big margin and went on to repeat the performance the next two weeks as well. This pigeon was named Diver, a lovely, very smart pigeon that is still in the loft today.

Advice to new starters:

Murray's advice to anyone entering the sport is learn to be a good loser, but more importantly, learn to be a good winner.
It's a competitive sport, everyone gets beaten. The trick is to not let it get you down.
By being a good winner, Murray means being gracious when you win. At every club there seems to be the member who never misses the chance to remind you how successful they are. They are so full of it, that they miss the chance to encourage the new member who is doing well and give praise when due.
The real champions don't talk much about how good they are. They let their results do the talking.
Never forget, today you can be a rooster, but tomorrow you might be a feather duster.
(Some sound advice Murray)

Looking forward:

Murray hasn't raced much over the last few years due to work commitments, and last year the Rota virus conspired against him. He doesn't think that he will be racing again this year as the Rota virus is back and the vaccine is late being produced and with racing starting in a month time is running out.
They have been tested pretty hard in trainers though.
Murray has also built the frames for a new small stock loft that will hopefully be going up shortly. Murray only keeps a few pigeons and just looks forward to being able to enjoy them. If he had too he says that he could select the 6 most important pairs. They would mainly be Van Loons, Janseen (old 007 Wonderboy strain) x Adrie Van de Rhree and a pair of Jos Thone hens. He also has a few Black Chequers, Van Wanroy x Van de Wegen that are useful birds.

The pigeons can't wait for the loft to be ready