George Dever – Loft Report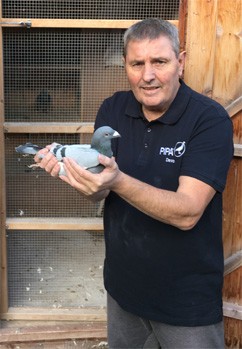 This is the loft report for George Dever (Devo), a good friend, due to this forum, and one of sports gentleman.
George's first encounter into the sport was at 15 years old with one of his brothers. His brother was into show birds and fancy pigeons, while George was always more interested in racing. At the age of 18 George topped the Liverpool Amal YB race from Hereford against 7,200 birds.
Then at 19 George was offered a work placement in Germany, so all the birds and equipment were given away.
George re-entered the sport 18 years ago, again with the Liverpool Amal, but again this didn't last very long. 16 years ago George and Maria moved to their present address and took over the care of Maria's sister Jeanette, who still lives with them and they still care for now.
George has tried all sorts over the years, Greyhound and Horse racing a couple of them, but pigeons have always been at the back of his mind, and after a break of 11 years, becoming a full time career for Jeanette and only being in the garden if needed, decided to get back into the sport 3 years ago.
AIMS:
When George re-started, he yet again joined the Liverpool Amal. He gave himself a 3 year plan, which he now says is still ongoing. George wanted to aim at the middle distance at about 350 miles. With this in mind George decided, after much research, to go for the Gaby Vandenabeele's with the Bliksem and Rudy lines and also bringing in the Hooymans Harry lines. George's goals have changed a bit with his participation in One Loft Races, but is still involved in club racing and is thinking about joining the NFC. This year George has decided to join a new club and race with the Widnes Fed rather than the Liverpool Amal for next season. This decision was taken as George's view is that who ever is looking after his birds in any circumstances is an extension of himself, and giving his birds the best treatment and possibility of completing the job in hand. He felt that the birds weren't being treated as well as he would like and the transporter isn't as good as he would like. His aims are still with the same families of pigeons. Which having seen and handled his birds I think he is on the right track. We all know that things change, and we have to adapt to these changes.
EXCITING NEW VENTURE:
I was going to put this at the end of the report, but following on from what I have just said I think this fits in well here.
George has told me today that a Dutch flier is wanting George to go into a partnership with him for the Dutch Nationals. This would involve George breeding 12 youngsters to go into "Their" young bird team.
THE LOFTS:
The old bird racing loft is 12ft x 6ft, all one section with 16 nest boxes.
The other loft is 16ft x 8ft with a 2ft corridor and 3 sections. 2 for young birds and a middle section for stock birds containing 8 nest boxes.
The lofts are scraped out 3 or 4 times a day.
Trapping is through bob wire traps with ETS.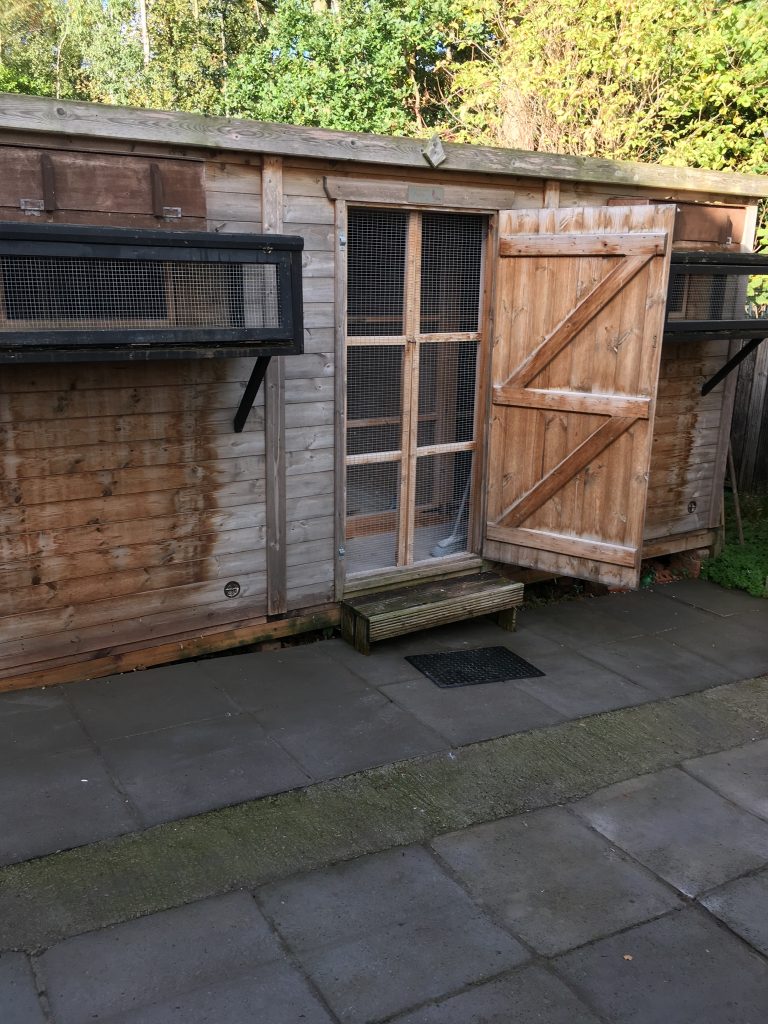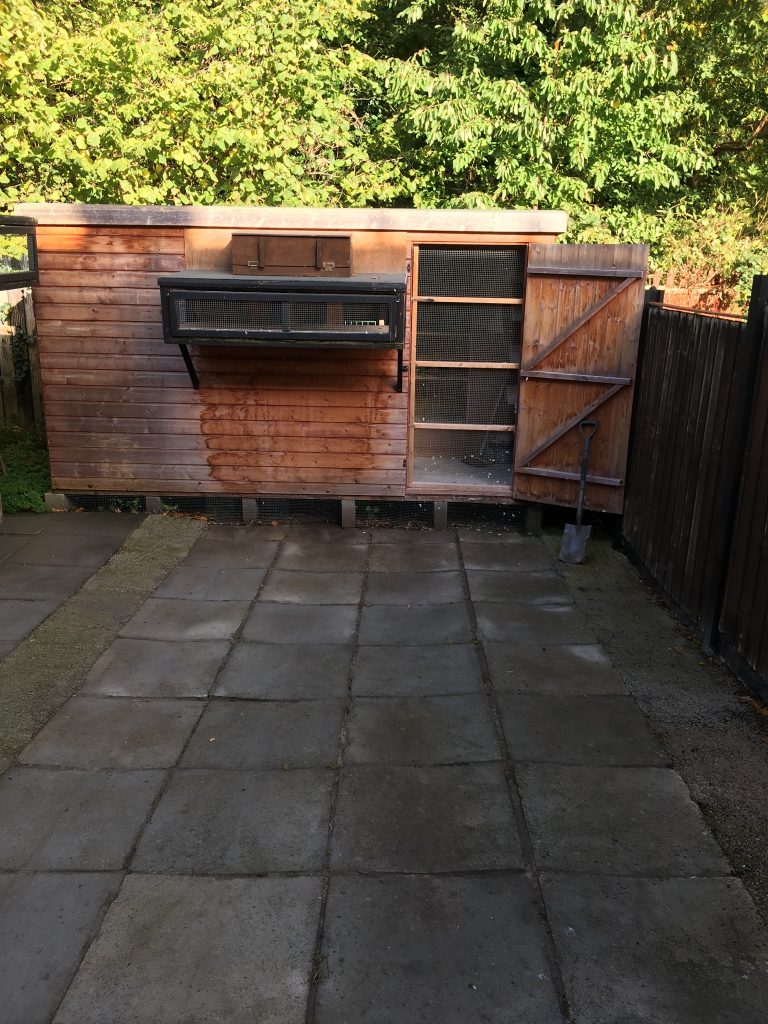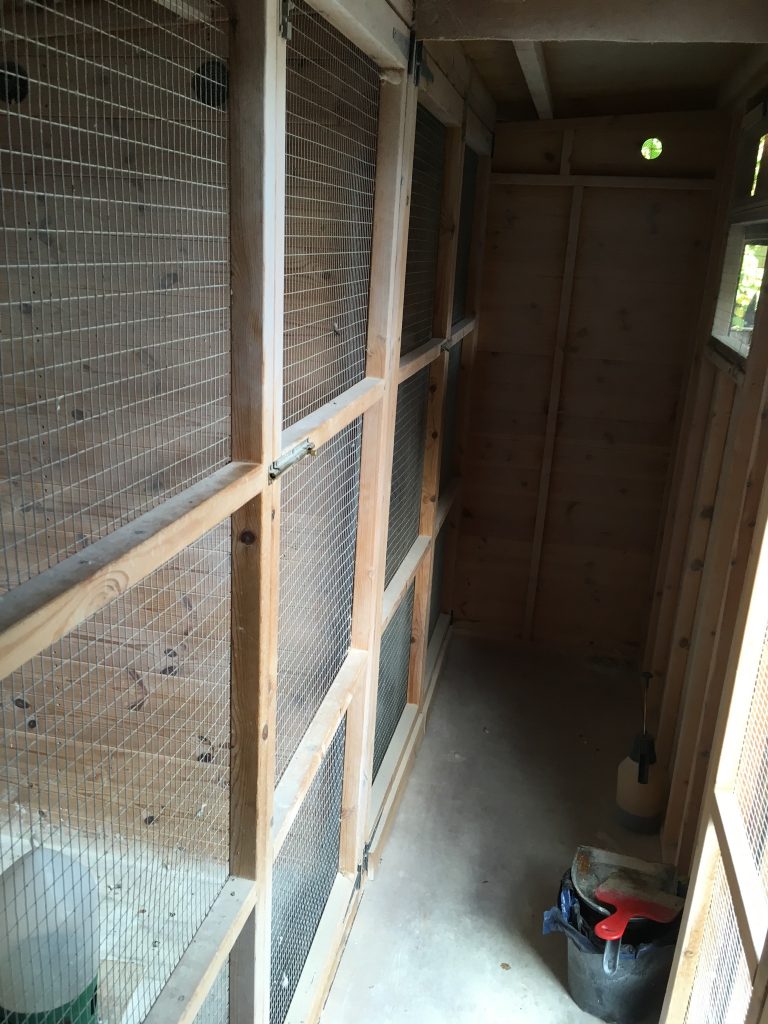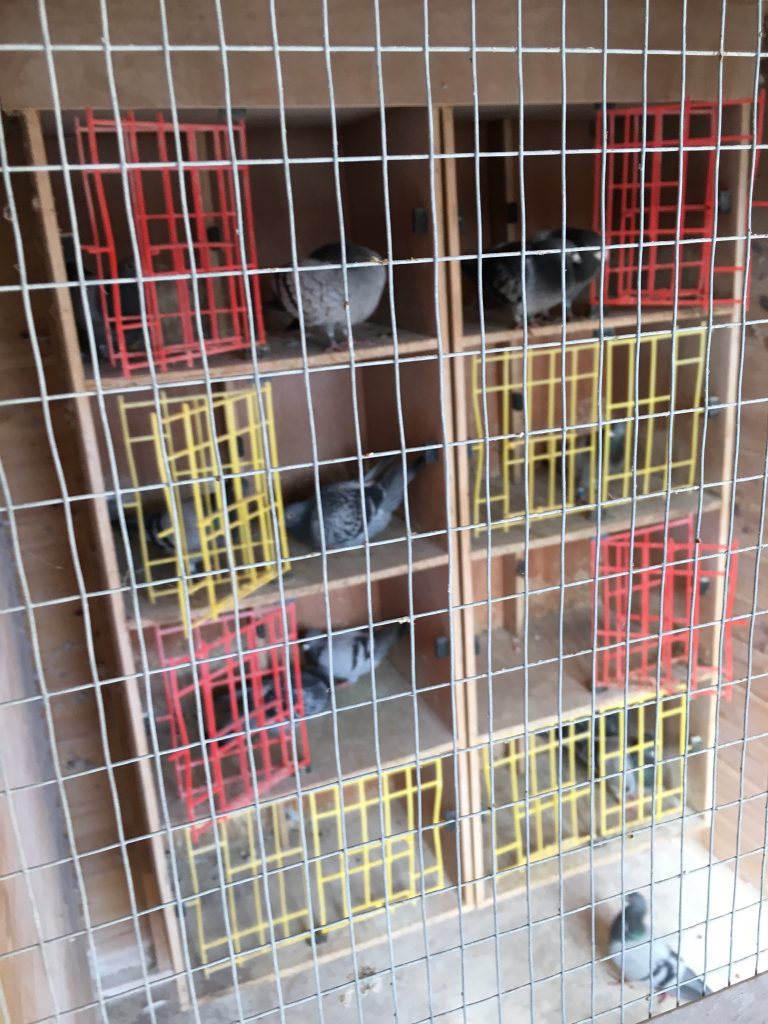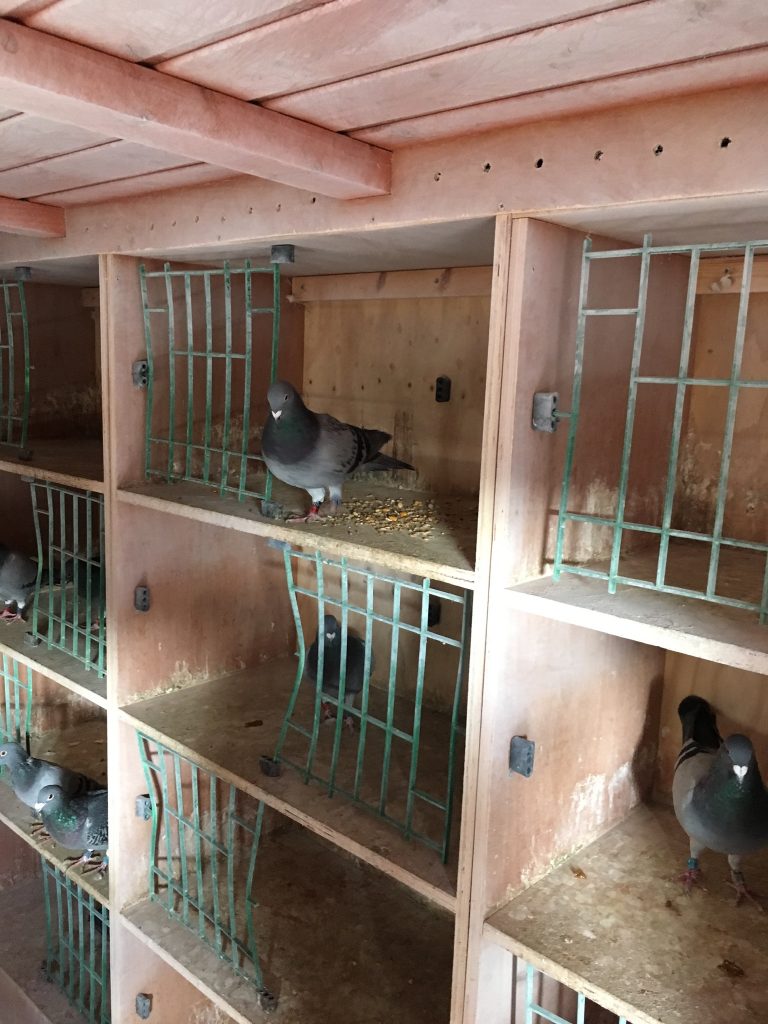 THE BIRDS:
There are 8 pairs of stock birds, 16 pairs of old bird racers and 35 youngbirds are bred for his own racing. On top of this 20 youngsters are bred for the various OLR's that George sends too, and now I presume an extra 12 for his new Dutch adventure.
As said, the main families kept are the Vandenabeele's and Hooymans, with a few other birds being tried, including some Van Loons from Rich.
The birds are all raced on the natural system. George doesn't use the darkness system, although his young bird section is quite dark anyway.
When asked what he thought was the more important, breeding or racing, George replied, breeding is pure gold and racing pure silver. In other words, breeding is the most important part of any long term plan, and the racing is used to prove whether the pairings are right. With testing and selection made by the work done by the offspring.
Both the stock birds and race birds are paired up in February with the 1st round of stock birds eggs floated under the race birds.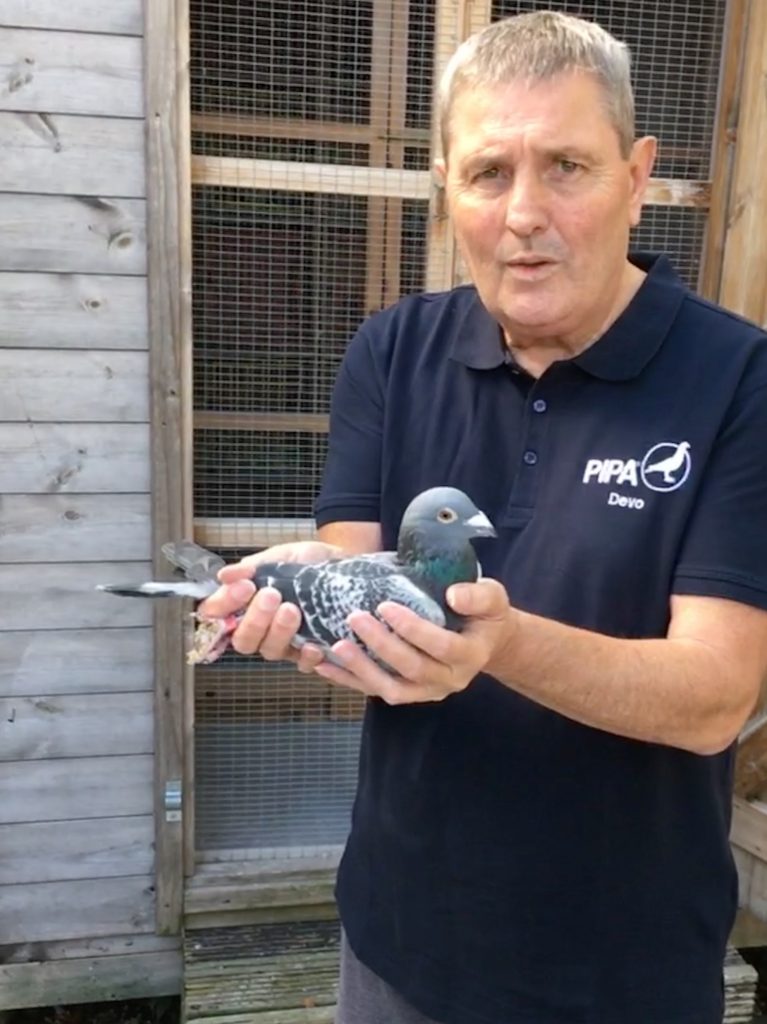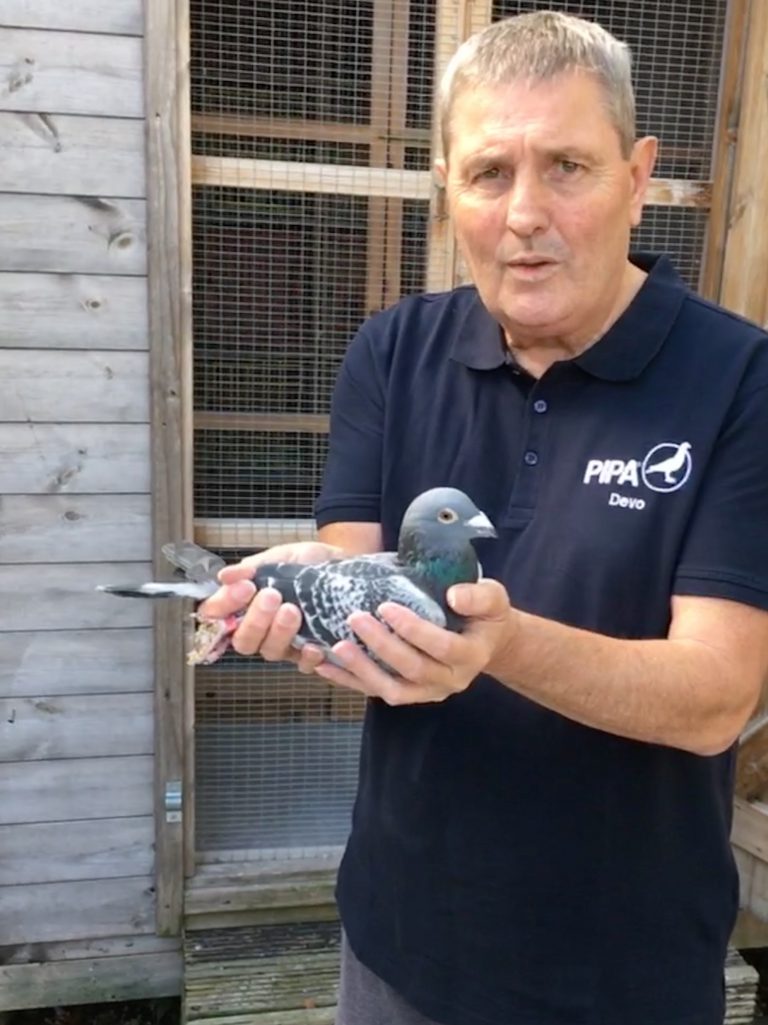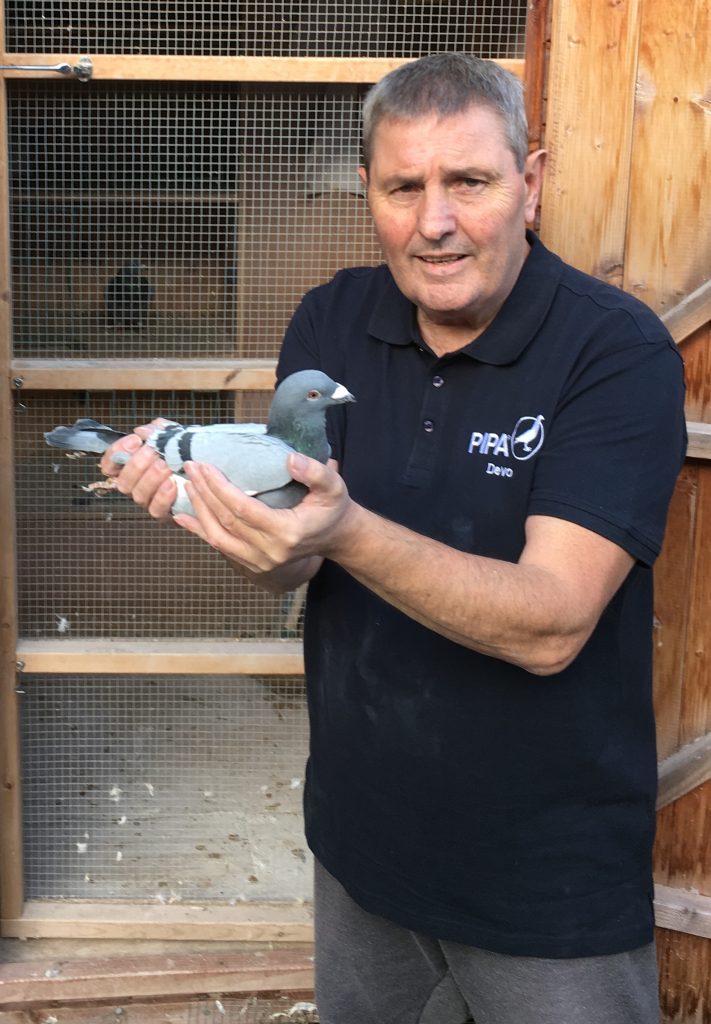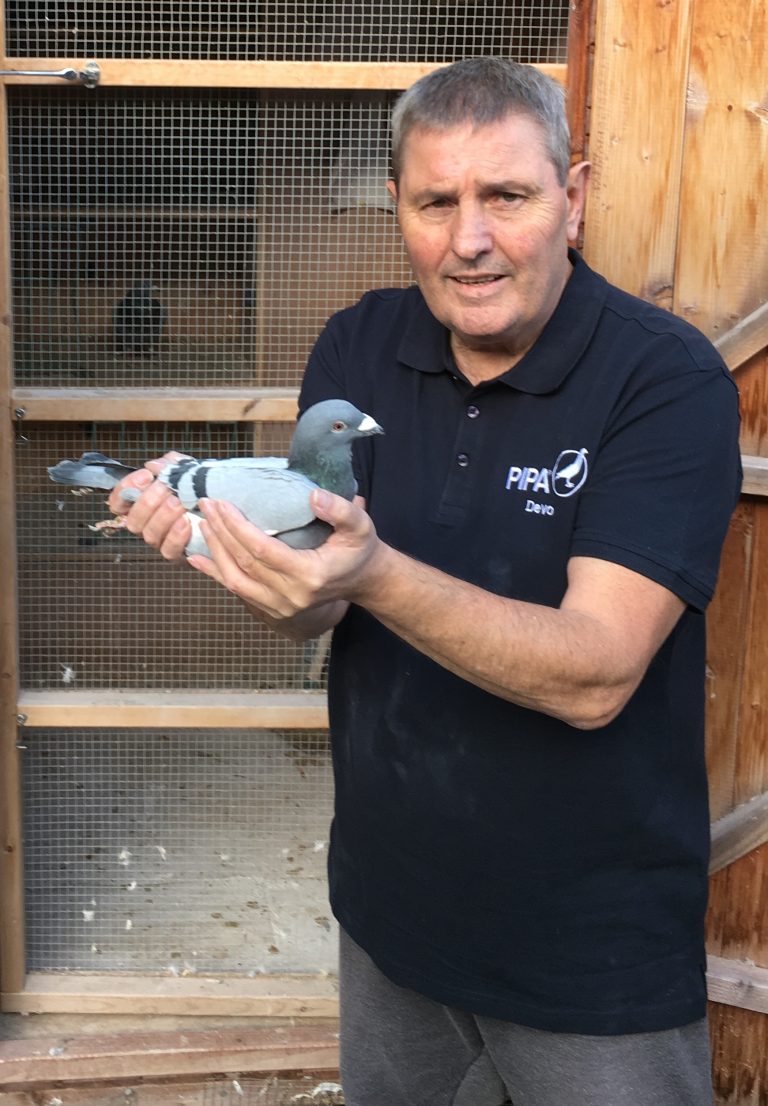 When George calls him from the back doorstep "Rudy" comes running to the front of the loft, such is his love of George lol.
TREATMENTS:
The birds are treated for Canker, Cocci, Worms and Respiratory before breeding and again 3 weeks before racing.
Apple Cider Vinegar is put in the water twice a week, Promotor L is put in the water twice a week. George says this helps with the feathering, and while feeding youngsters, and particularly useful after vaccination and treatments.
The Apple Cider Vinegar is replaced with a bottle of Yakult when feeding young. The other three days is just fresh water.
Conditioners are only used when felt necessary and on birds that George feels need a boost.
FEEDING:
Starting at the end of the racing season, the birds go onto a moulting mix with no restrictions on the amount.
With the feeding, George gives the birds their food where they want it. Although food is put in a trough on the floor, if any of them want feeding in their box instead they are given a bit there.
Once they have finished moulting they go onto a resting mix until just prior to pairing, when they go onto a breeding mix. The stock birds are kept on the breeding mix, while the race birds go onto a racing mix. The birds aren't broken down at all. George feels that the race would have broken them down, so need picking back up on return, and not broken down anymore. This year George tried using the Vanrobys boarding mix prior to basketing, but didn't find it of any benefit, so won't be using it again.
George doesn't leave grit or minerals in the loft, but instead mixes some together and sprinkles it in the food trough 3 times a week.
EXERCISING AND TRAINING:
The birds are let out during the winter when it's raining, as George feels that the hawks are less likely to be about hunting. There is a railway line and station and a lot of tall trees running along behind the lofts for hawks to hide in.
Once exercising in the spring they are let out twice a day unless training.
Training starts for the old birds 8 weeks before racing commences. If the weather is right they will be exercised first thing, then taken for a training toss and then loft flown again in the evening. If training with the club wagon they are only loft flown in the evening, due to the time for getting to the wagon. George tries to give them 4 tosses per week prior to racing, weather permitting. Once racing starts, if the weather is ok, they are given a 17 mile toss every day during the week.
The youngsters are started training once they start ranging. They are started at 5 miles, then 10, 15, 20 and up to 30 miles. They are given 4 tosses per week prior to racing and 3 per week once racing starts. All dependant on the weather, sometimes on his own sometimes with the club.
ONE LOFT RACES:
George is keen on OLR and sends to a few per year.
He did send to the South Africa Million Dollar OLR this year but says due to the way they were treated in the early days he wouldn't send there again.
During the coming year George is planning on entering:
A OLR in Denmark
The Algarve OLR
The Derby Arona OLR, which he already has 5 birds entered in.
And The Costa Del Sol, which is his favourite.
THIS YEARS OLR'S
Last winter/spring we followed the progress of the SAMDR OLR where George, in with CDBL, had Slip Anchor and Dieses flying the flag. Slip Anchor kept going awol but did keep returning and made the final.
Dieses done well up until the penultimate race before the final when he failed to return.
Then came Costa del sol, again in the initial stages with Chris. They had a team that were coming on well and in particular GB18H27776, bred by George. As we know this pigeon went on to win the speed champion over 6 races. Chris pulled out of the partnership before the final for personal reasons. George had 8 of his entries made the final. The final turned out to be very hard race, with only 147 returns out of 826.
George had 2 returns, although out of the prizes, including the speed champion, which still hasn't been auctioned to date.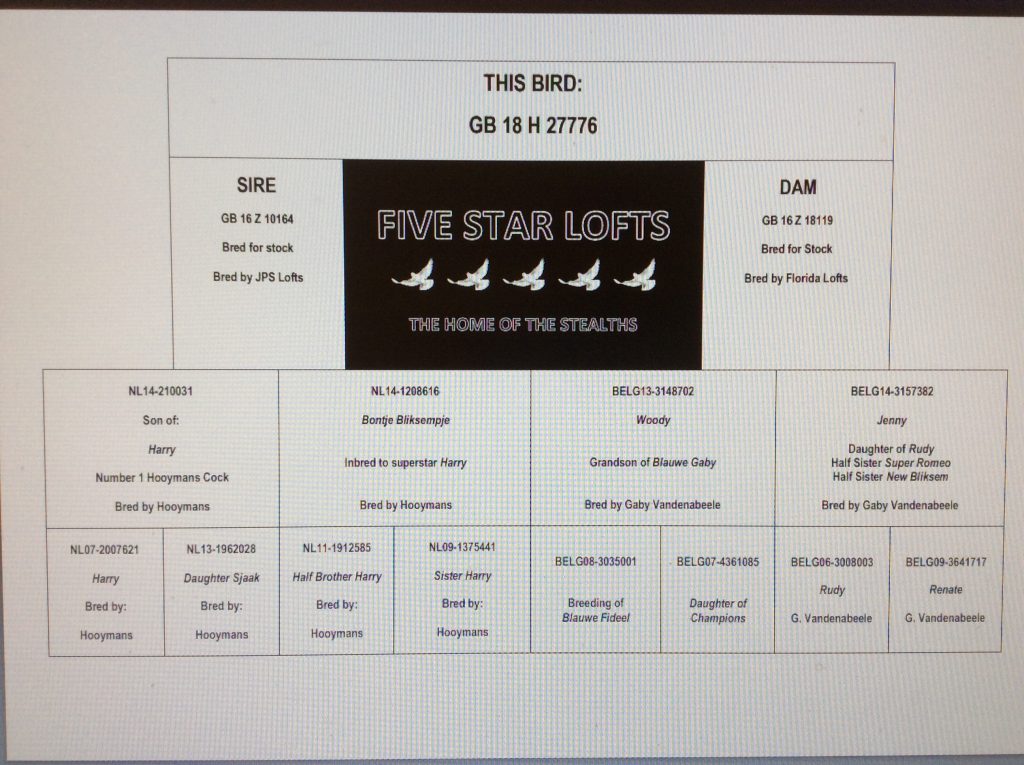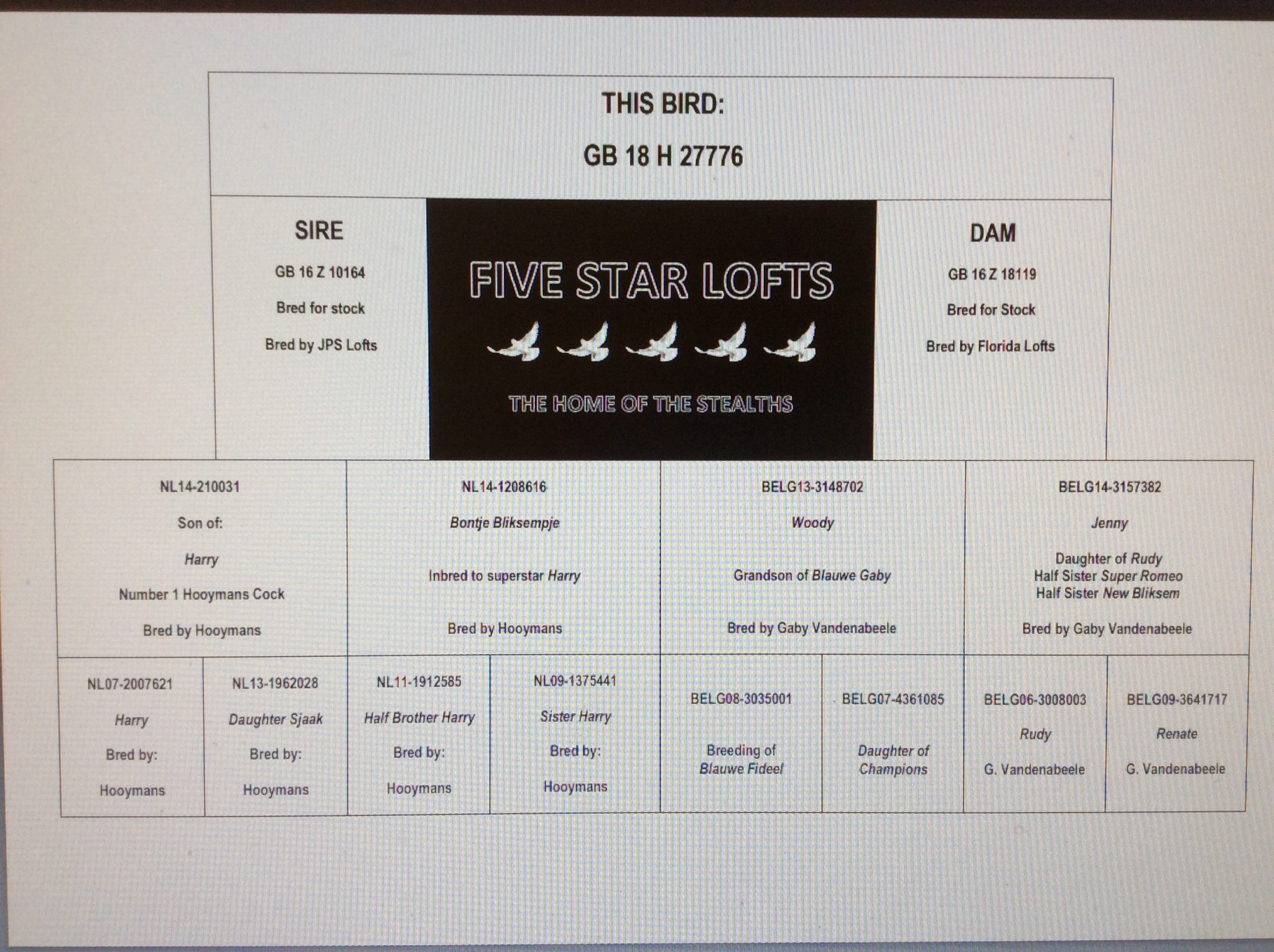 ADVICE TO BEGINNERS/NEW STARTERS:
The 3 main points that George gave were: Research, Patience and Observation.
Research what is involved, decide what your ambitions are, and get advice from different people. Decide what family of pigeons you would like to try for your chosen distance and obtain the best you can to form your foundation.
Patience: give yourself and the pigeons time, George suggests formulating a 3 to 5 year plan. Don't cut corners and don't expect success overnight.
Observation: watch the birds and learn all there own little quirks and needs, treat them as individuals. Keep a routine for you and the birds and although George likes spending time with the birds he feels that it is also important to give them their own time.
CONCLUSION:
Although we didn't go up to George's with the intention of doing a loft report it's great to be able to do one. We had a good few hours looking at the birds, which were in great condition and nearly through the moult, and talking about the pigeons. We didn't agree on some aspects, but that's the beauty of the sport. One thing that we were very much in agreement on is our love of the pigeons and the respect we have for these wonderful creatures, that give us their all for their love of home.
It was very apparent standing in the lofts, the affection that George has for his birds and the affection he gets back. They were so calm and weren't in the slightest bit fussed about me being in there. In the stock section there is a cock that has to be kept separate from the others as he is so aggressive. So some of the time he is shut in his box while the others have their freedom and then the others are shut in while he has his freedom. George has a long handled broom that he taps on the floor and all the birds fly up into their respective boxes waiting to be shut in.
I would like to thank George and Maria on a lovely day.
I wish you all the luck you deserve in both the OLR's and in your club racing throughout the winter and next season.