A loft report on one of our members phil boden.
Phil Boden – Loft Report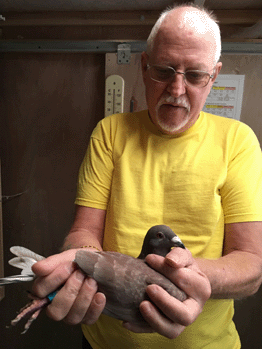 This is the loft report on Phil Boden (Askamate) from Frome, Somerset.
I have known Phil only since my own return to the sport in 2016. He is a fellow club member of mine in the Frome SRFC as well as now a good friend.
Phil had first been involved with pigeons as a boy, as his farther kept them. This was his introduction into the sport.
Phil then joined the Army at 15 and it wasn't until he came out of the Army that his interest was rekindled and he started up again in 1974 and has been involved ever since.
Over the years Phil has tried out different methods and different families determined by who he was racing with. While racing with the Frome club, as part of the WOESRC, more of the emphasis was on sprint/middle distance racing, but Phil still preferred the longer distance events and has been a member of the BICC, BBC, NFC and the CSCFC for a number of years and has had some good results over the years from the long races.
Since our decision as a club last year to resign from the WOESRC and just concentrate on the Nationals and Classics Phil's plans have changed, and he now has one real aim, and that is for races between 500 and 600 miles, with Tarbes in particular being his main objective. So last year he decided to get rid of all of his sprint/middle distance pigeons and just concentrate on distance pigeons.
Although as I have said Phil has tried different methods, including widowhood, he much prefers the natural system and keeping things as simple as possible.
This then is where Phil is too now and the way he manages his pigeons with the distance in mind. As said Phil is only really interested in trying to win Tarbes/Pau, all other races are just used in preparation for these races.
The Loft.
Phil has 2 lofts, a stock loft 8ft x 6ft containing 6 nest boxes, and a racing loft 18ft x 6ft divided into 3 sections. 2 sections have 9 nest boxes in each, the third has box perches and a set of 3 nest boxes.
The birds are kept on deep litter, which Phil tells me is in it's 3rd season without being changed. The rest of the loft is scraped out once a week. The drinkers are kept on a heat mat during the winter to stop them freezing. Another little gadget that Phil has constructed is a door bell that he fixes onto the trap on race day so that when the birds stand on it when entering the loft it rings in the house so that he knows when a bird has arrived, which is very useful on long races. The birds are clocked using ETS, but of course first arrivals still have to be verified.
The lofts, the nearest being the racing loft with the stock loft below.
The metal frames behind the shed at the bottom of the garden are a set of signals on the railway line that runs along the bottom of the garden.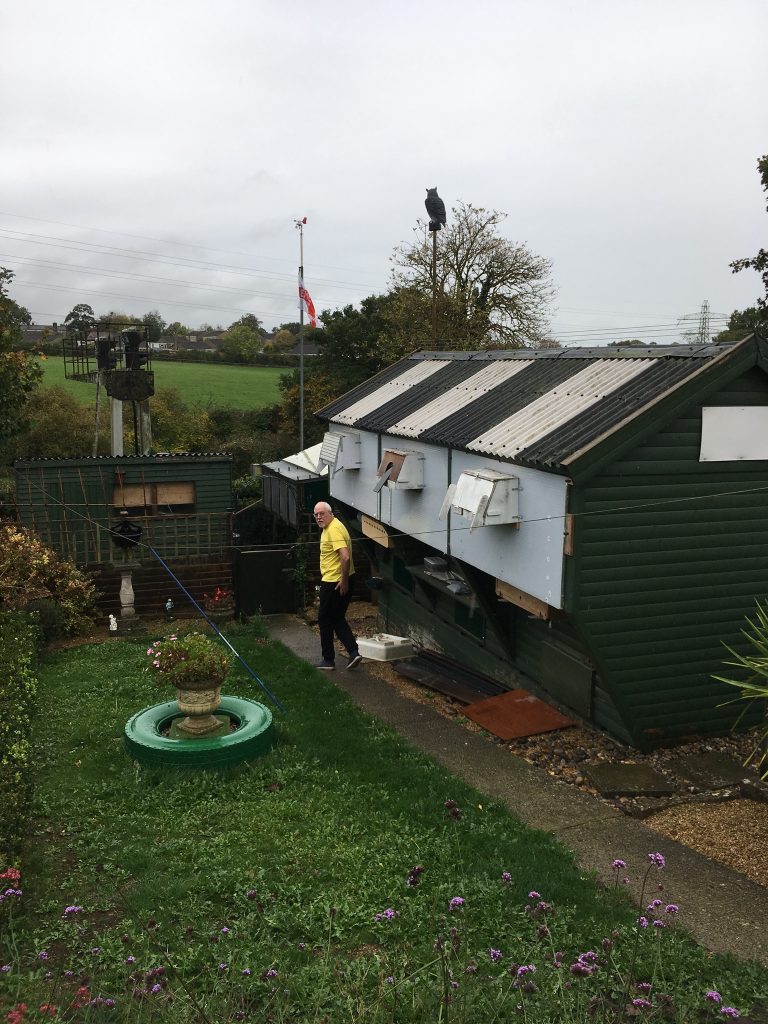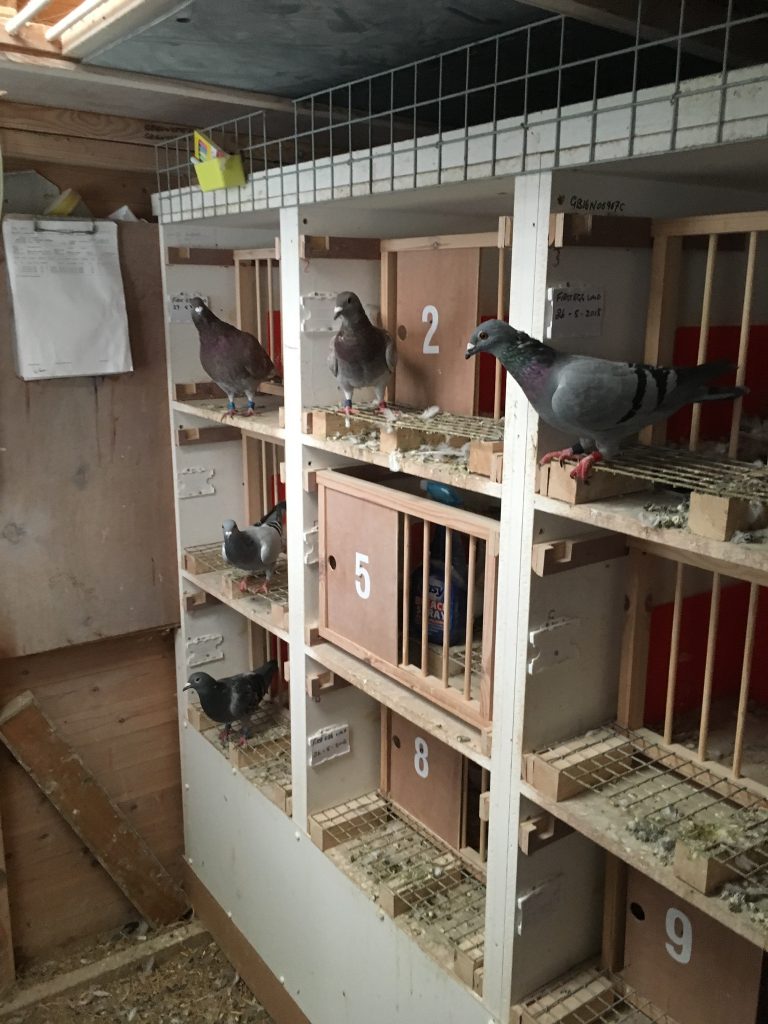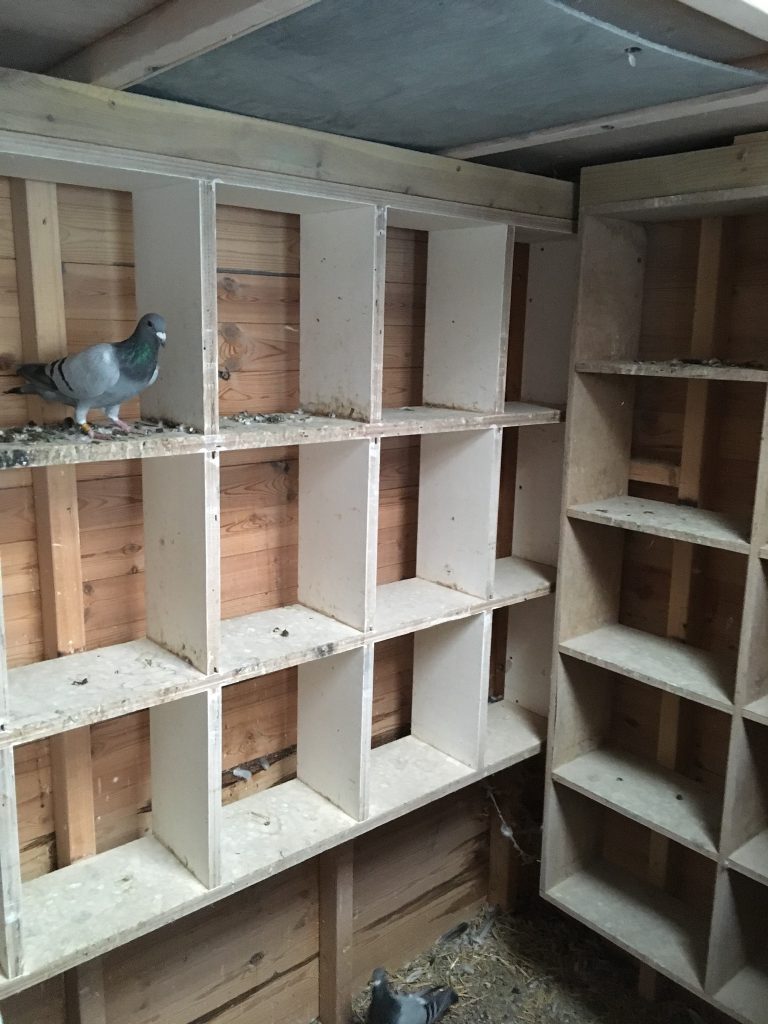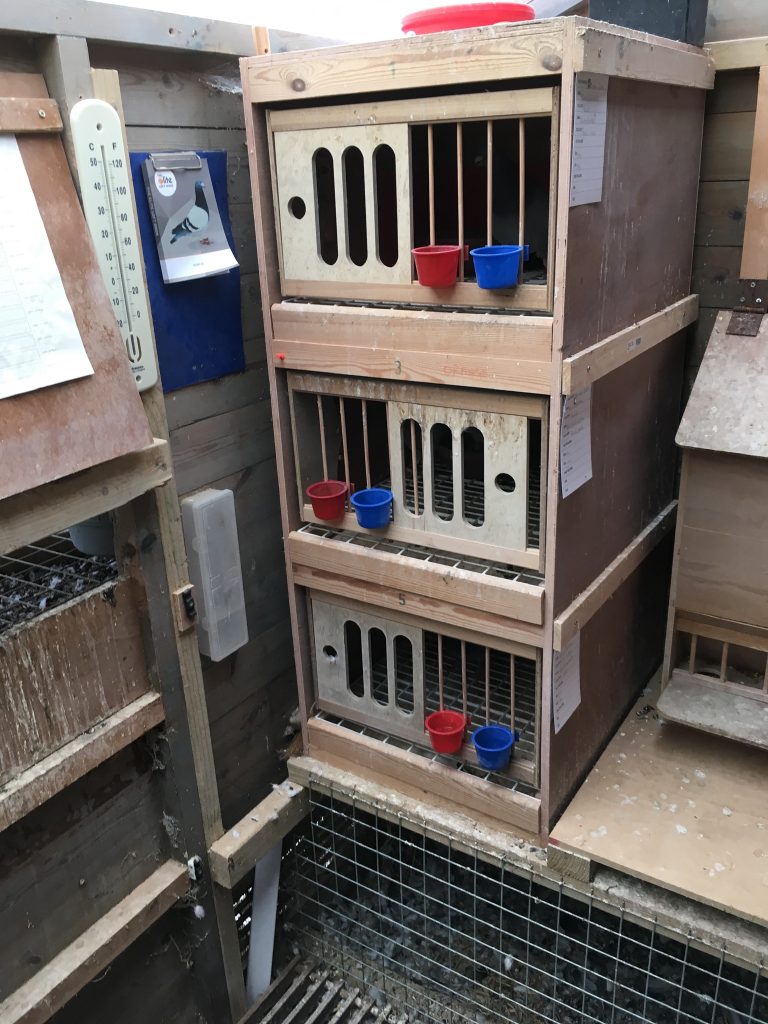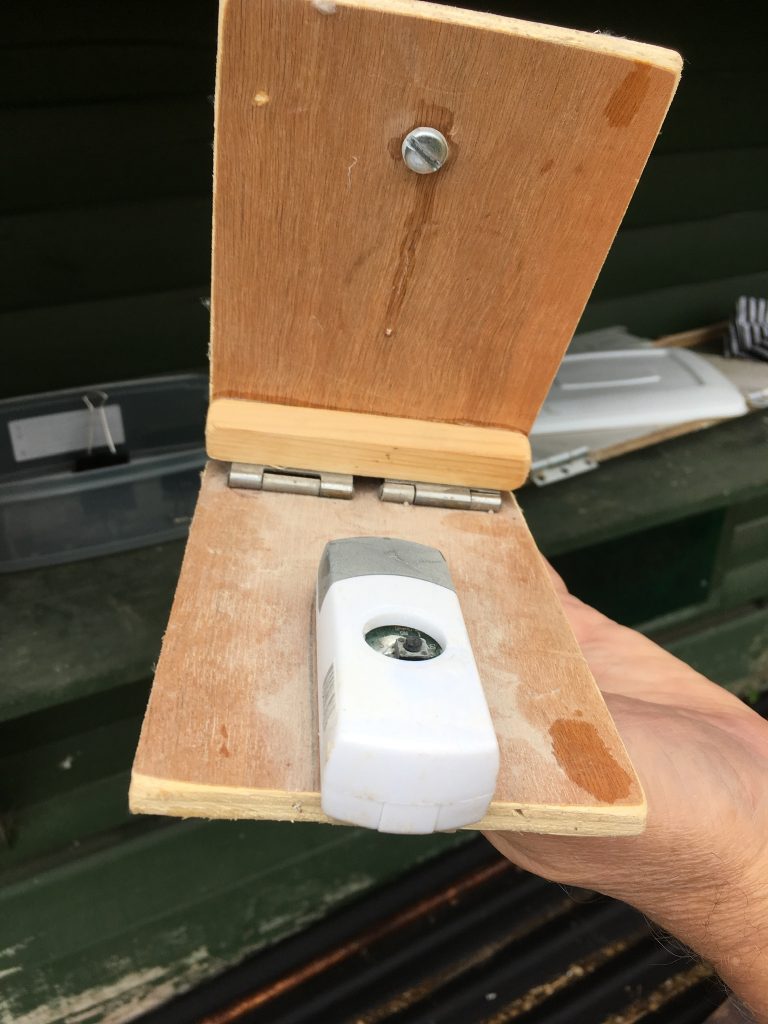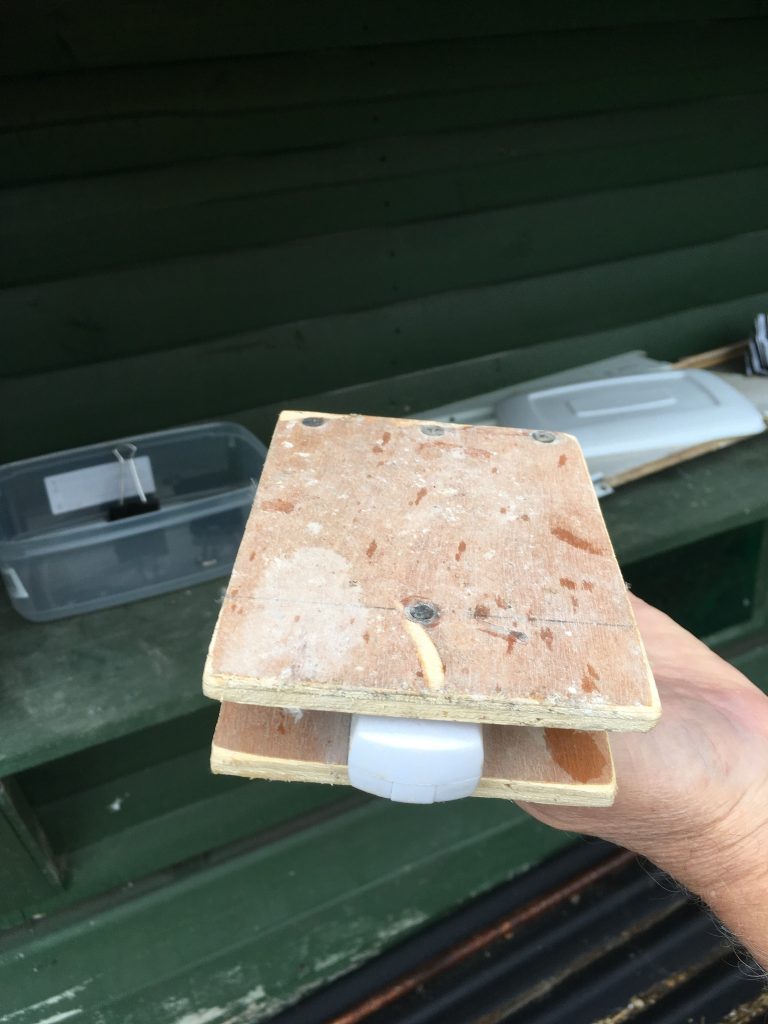 The Birds
5 pairs of stock birds are kept along with 12 pairs of race birds with 20 to 25 youngsters bred per year mainly only from the stock birds which are paired up in February, Phil doesn't really go in for pedigrees and his birds are a mixture of birds from some top distance fanciers. The stock birds and the race team are a mixture of R & M Venner of Street, J Halsted of Nyland, A Parsons of Salisbury, D Boxford Busschearts, Marshall & Smith and Owen Hills & Chris Gordon. The race birds are paired up in March. The race birds are paired with the intention of both of the pair going to the same race points, this Phil finds helps the birds go back onto the nest on their return rather than just sending one of the pair, where the one left, due to basketing on Thursday's or earlier for the longer races, would have left the nest before it's mate returned.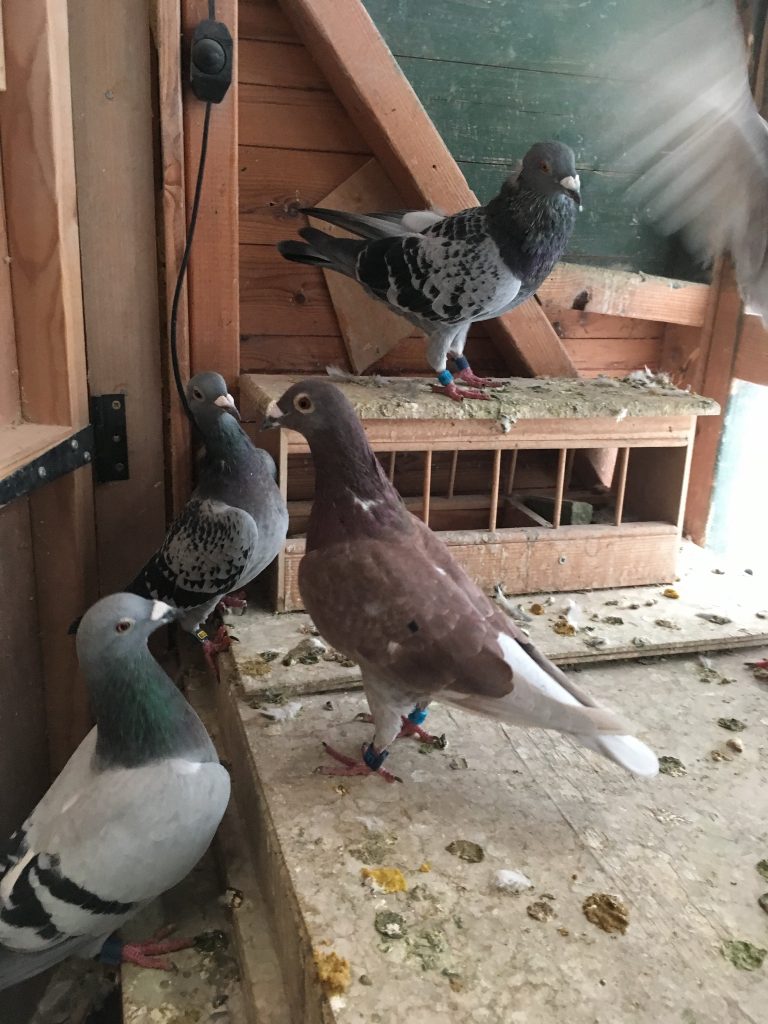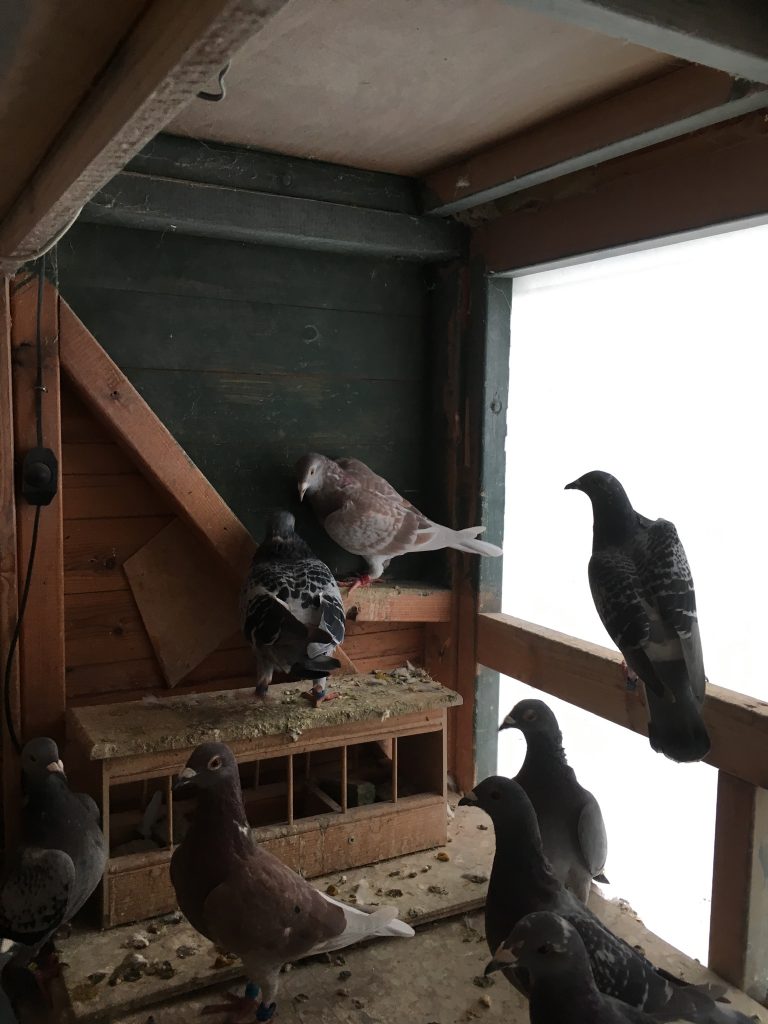 Pigeon and racing Management
No treatments or medications are given at anytime. Grit, minerals and pick blocks are available at all times. The racing team are kept on open loft and once the youngbirds are weaned and eating well the doors between the sections are opened and all birds allowed to run together. When the second round of youngsters are ready to wean they are put in the youngbird section on their own, again until eating well, when they also join the rest of the loft.
Phil has no preference in racing cock or hens at the distance and has done well with both. The old birds are all raced natural and Phil's preferred position is sitting 10days on eggs, but if he finds an individual pigeon preforms better in a different position he will aim at this for their main chosen race.
The youngsters are trained well, both by himself and when possible on a trailer with Clive, then they have a couple of channel races up to 200 miles.
The old birds just get 3 training tosses by himself and possibly 1 with Clive before going to their first race, which for some will be 190 miles over the channel at the end of April. Other birds will have their first race at over 200 miles. He only aims to give the birds 3 or 4 races a year. The yearlings going as far as 450 miles, then from 2 year olds and upwards their target race of 500+ miles. Phil says that this is the stage for him when the racing starts, anything running up to this is only in preparation.
Feeding
As Phil is only interested in the longer races all birds are treated the same throughout the season regardless of the distance of that weeks race.
The birds are never rationed at any time of the year and food is always available. No conditioners or trapping mixes are used either.
I'll start at the end of the season when the birds are put onto a moulting mix. They are kept on this until they finish moulting. They then go onto a breeding mix. The stock birds stay on the breeding mix throughout the season. The youngsters are weaned on the breeding mix but once eating well join the old birds and are fed the same as the race team.
The thing to remember is that most weeks the race birds for that week are basketed on the Thursday morning, so the birds have to be prepared before this. Phil's thoughts on feeding are that the birds need to have the fuel in the tank, as he puts it, to do the job in hand, so looks to send them with a full tank. As the feed isn't rationed and the birds just eat as and when they want, this doesn't mean sending them with a full crop, just that they have been fed a high fat and energy mix for a couple of days before basketing. He says, you never really know what the birds are going to come up against and even the easiest of races on paper can become a hard race. As Phil is only interested in the long distance races he doesn't feel the need to keep pigeons short of food for the shorter races as he doesn't mind where he comes, he just wants to get them home. Also of course he can't control what they are going to get in the basket so likes to know their tanks are full before basketing.
Saturday on return from race: premium turbo energy mix. (To fill tank back up)
Sunday: layers pellets
Monday: barley (the barley that Phil uses is Maris Otter Barley, which Phil tells me is barley that has been soaked for 6 days until starting to germinate and then kiln dried, costs £22 a bag.
Tuesday: premium turbo energy mix
Wednesday: premium turbo energy mix
Thursday: premium turbo mix before basketing
Friday: birds that haven't gone to the race get premium turbo energy mix.
As said before the feed is never restricted and the youngsters once going in with the old birds get the same.
Best results this season
Phil's best result this year had to be with his red cock GB16N06987. This cock had been timed twice from Poitiers 352mls in a fortnight as a yearling and at only about 10 months old. This year Phil had earmarked him for the Tarbes Classic with the CSCFC at 563mls. He had a couple of 200 mile races and Poitiers 2 weeks before Tarbes. The birds were liberated at 6.00am with no birds recorded on the day. There were birds being clocked from late morning on the second day. The courageous Red cock turned up during the evening flying 30hrs 26mins badly hawked with a hole in his crop and a large gash down one side. He finished up being 4th section 24th open with only 39 birds clocked in race time. Who knows what he would have done if he hadn't been hawked. He is earmarked to go there again next year. I handled him on Sunday and he is in great condition with no sign now of his injury. He is a medium sized cock and very well balanced.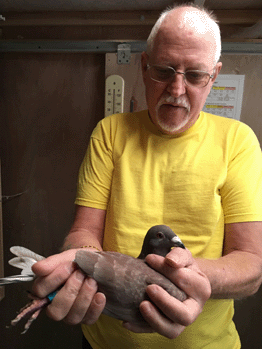 Another good performance was from the very hard Poitiers 352mls with the BICC when only 59 birds were verified on the day. Phil was 21st section 48th open. This cock was unfortunately lost from Bergerac a few weeks later.
I also have to mention the Guernsey young bird national with the BICC, which as we know turned into a very hard race especially over this side of the country. Phil ended up winning 2nd, 3rd,7th & 8th section 262,307,354 & 357 open.
Advice for the novice/new starter
Phil's advice to new starters is. First decide at what distance you want to aim at, sprint, middle, or long distance. Obtain pigeons capable of preforming at your chosen distance. As Phil says, you won't get distance birds to sprint in the shorter races and you won't get sprinters from the distance. Keep things as simple as possible, decide on a system and give it time to see if it works, just make the odd tweaks if necessary. Don't keep changing things, as if you make things too complicated and keep changing things you will soon lose heart and interest in the sport. The sport should be enjoyable and fun, if it's not it will become a chore.
Finally
I would like to thank Phil for his time to compile this report and to both Phil and Pauline for their hospitality.
This report was done last weekend and Phil was in good heart thinking about next season and the birds looked and felt very well, but this was far from how things were 2 weeks previous. The farmer had been spraying something in the field just over the other side of the railway line that runs along the bottom of his garden. His pigeons had gone down into the field and had obviously picked something up. Phil had 10 pigeons either die or had to be culled within 3 days, many others looked poorly. Phil phoned me up devastated and saying he felt like packing up. Fortunately the rest started to improve and are now back to normal.
Good luck Phil for next season, hopefully I will be able to beat you a couple of times next year.