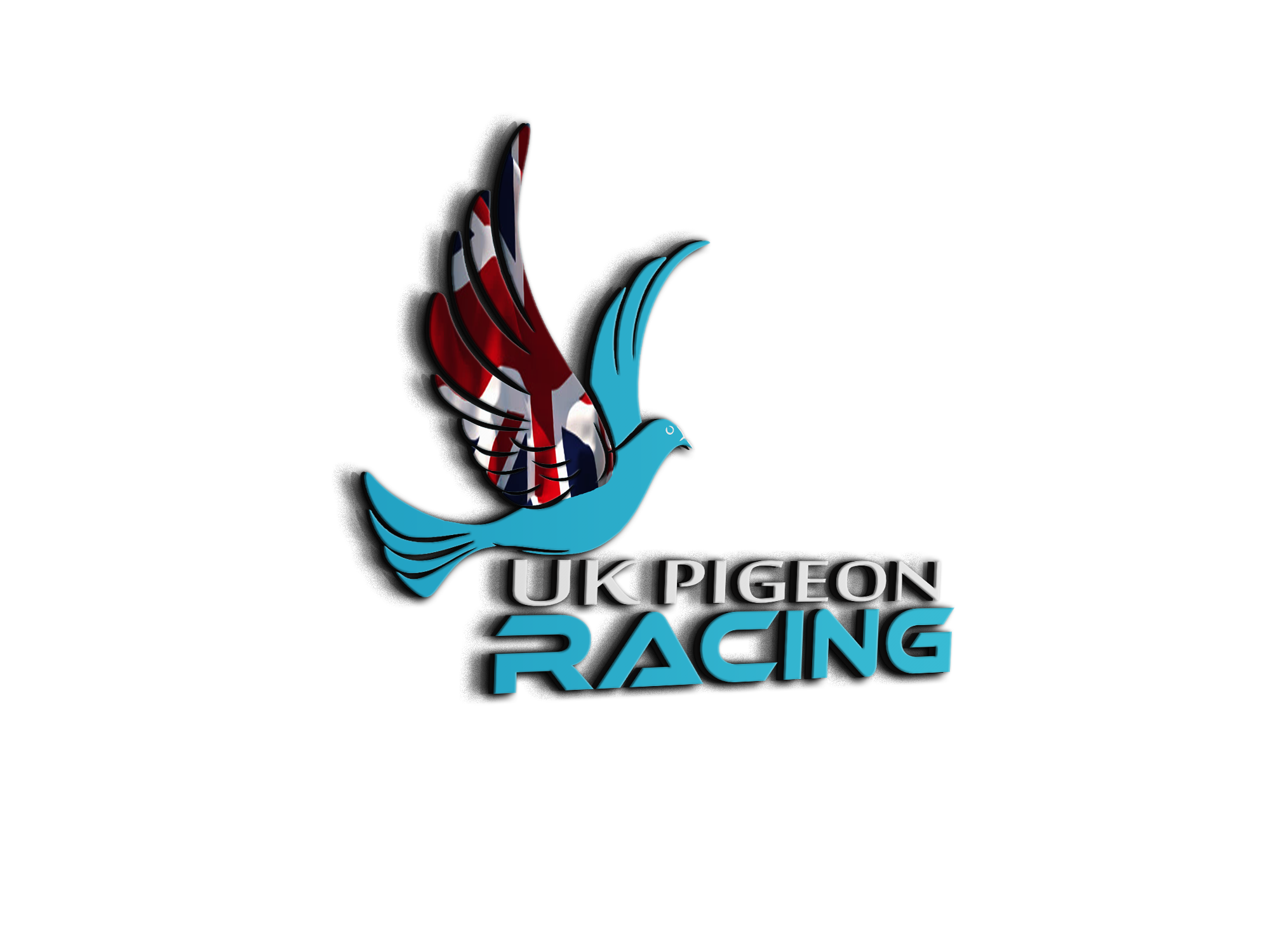 Secondaries and tail feathers
I was scraping out this morning and whilst clearing up all the feathers, not to many now, noticed a few secondaries. Nothing unusual there but got me thinking. We know in what order they moult their flight feathers and that they moult from 1 to 10, from the middle of the wing to the outside. We take a lot of notice of these flight feathers, in how they are growing, do they have fret marks, condition of flight and quill and how far up in the moult they are for each race. But what about the secondaries and tail feathers.
I know we try not to race birds with much of the tail missing although I'm not sure how much the tail is used in flight. I imagine it works as a bit of a rudder and helps with the streamlining of the air as it passes over the pigeon in flight and obviously as an aid to breaking when landing. But in what order do they moult? I know you will often see pigeons flying around with big holes in the tail and sometimes not more than about 4 feathers. I looked at a cock this morning. His tail feathers were all over the place. The outside ones were half grown but so were a couple nearer the middle. The middle ones looked new and so did the ones a couple in from the outside on both sides. 
We can see when they are moulting the body and head as this is very visible but what about the secondaries? Do we know much about these or take much notice of how these develop? Should we take more notice of these feathers? I assume that these are all moulted out every year the same as the rest. But do they moult in any particular order and do they moult just one at a time or a couple or so together? I can honestly say that without looking it up I don't know the answer even after years of keeping them. I just take it for granted that these are moulted. I do think that these feathers, the short wing, are very important to the pigeon. This being the closest part of the wing to the pectoral muscle is where all the power comes from. I know in the wing theory they reckon that the first 3 feathers nearest the body are more square at the top in distance pigeons than in sprint birds. 
Interesting topic Andy but as you I can't say I know the answer. All I have noticed over the years is that apart from the flight feathers, different birds seem to moult at differing rates and in different orders. I do know however that fit birds will moult much more efficiently than an unfit bird. 
Not to worry, Andy, the tail is not moulted in a sequence like the outer wing.
They drop two outers, then two inners, etc. I guess it's so they always have enough tail to balance them. 
The secondary flights are a subtle thing. They just seem to moult out, sometimes you see one fly over with a gap in it's back wing, and don't give it a lot of attention. 
Being a bird, a pigeon will use as much nutrition as is needed to grow it's 'new suit' of feathers. There are many people who have made a fortune out of selling
"Premium Moulting Mixtures".
Mine just eat pigeon food, and moult out, and look terrific. 
Just saying.

I have noticed over the years some birds do moult quicker or slower than there loft mates under the same conditions ,it could be a health issue ,or what I,m coming to is the quicker birds to moult mature faster than the others ,with our late breads out here ,they hardly drop a feather ,holding nest flights through the race season ,& race just as good as there earlier breed brothers & sisters ,so the more I study them the more confused I have become , lol cheers

I agree with what you both say and think we are often guilty of over complicating things.  Moulting is a completely natural annual occurrence which we try to interfere with to suit our racing desires, as long as the birds are fit and well they will get through it in their own time without too much trouble

Leave nature alone and it is quite capable of looking after itself. 
I don't change my feeding at all. Just kept on an all round mix. The actual difference in nutritional value of each grain is very little and they will get what they need from what ever grains are fed.
Following Killers comment on latebreds I have had a look at the 4 I have here. They are 2 pairs. The first ones bred on August 10th the second on August 19th. So around 10 weeks old and 9 weeks old. 
These are the first pair. They are bred from the 2 yearlings that were 2nd & 3rd birds from Poitiers 343 miles. The cock being from Grizzlecock & Ben and the hen being from Pete. Not the best of photos as I took them this evening after work and it was getting dark.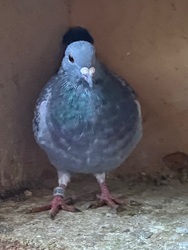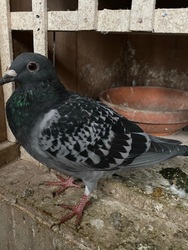 Even though they are only 10 weeks old they have almost completely gone through the body moult, they looked a mess a few days ago. One is about to drop it's 3rd flight the other is half way up it's 2nd.
The second pair weren't planned. I went to throw the eggs away and they were chipping, so soft as I might be I couldn't throw them lol. 
These are from a cock of mine that flew 178 miles. He didn't go any further this year as he was paired to the Irish hen I sent to Pau and wanted to make sure they kept sitting. The hen is a hen I got from Rich (Bryngwynt).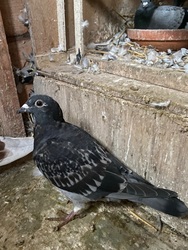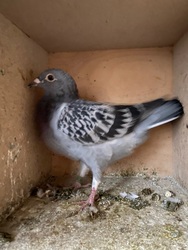 Even though these are 9 days younger than the other pair and only 9 weeks old they too have gone through the body moult. However, one of these is only half way up the first flight and the other one hasn't dropped any. 
So as you can see even though there is only just over a week between the two pairs and have been fed and treated exactly the same they are all at different stages in the wing moult but have all gone through the body moult already. 
With the late breeds mate ,they don't seem to know what's going on with the hawk attacked etc  & keep coming ,as with the  older ones they tend to Wise up & go down when attacked ,that's is my understanding of it ,the bit I can't understand is a fully moulted bird should beat one that as not moulded & as not dropped any primary flight ,but is not the case ,may be it's the Heart we should be considtrating on & not the wing

,cheers 
@killer interesting thought mate 🤔
These latebreds have been kept with the old birds. They have been flying well. The younger 2 have 2018 rings on and the other 2 have 2020 rings. Could be trained and raced with the old birds next year or just trained with next years youngsters and either raced in the Nationals AA races or kept until the following year. 
At what age would your latebreds start racing Killer. 
Tossing at 8 weeks race 2 or 3 straight at 100 k or 150 k then jumped to 800 or 900 k if healthy & fit ,not all will come through this tough test ,this year we had a smash from 1002 k to us ,only one home into Sydney 3rd or 4th day , this being a baby only approx 40 weeks old , we sent a 18 week old baby ,reported 100 metres from our house & loft on the 16th day ,so close ,but was hawked badly ,so I know it can be done with the right blood ,cheers 
The interesting point you make about the latebred birds that carry nest flights, often beating those that have moulted right through, is that over here to compete successfully with youngsters, especially in the longer young bird races that are at the end of the season, most people use the darkness system.
This system gets the birds to moult through their body and head early, but stops them from dropping flight feathers. Which of course is what you find with latebreds naturally as when they are born the daylight hours are shorter and shortening. 
So this means that the youngsters racing over here in August/September would have gone through a body moult but dropped only a couple of flights. By this time my natural ones will be up on their 7th or 8th flight. 
That was a shame about your youngster Killer. Was it reported dead or is it still with you? 
She was alive ,one eye , a broken wing ,& very poor in condition ,could'nt stand ,my wife as nursed her back & after 2 weeks can now stand ,she was picked up in street on the 16th day & taken in to local vets ,after being hit 100 metres from home ,if she hadn't been reported ,I would of thought the mating to produce her was no good ,birds have been reported 600 & 700 miles south of race point ,we being direct east of race point ,it starts to wunder how far she ended up flying before trying to make it home to us ,the vets is south of us ,but to get so close ,makes you wunder what our birds are going through with the hawks , cheer 
You and your wife done well to get that bird better. Sounds like she flew a lot further than the race distance and she done well to get so close to home. How unlucky for her to get hit so near. I would think from that the pairing is well worth breeding from again. 
Tossing at 8 weeks race 2 or 3 straight at 100 k or 150 k then jumped to 800 or 900 k if healthy & fit ,not all will come through this tough test ,this year we had a smash from 1002 k to us ,only one home into Sydney 3rd or 4th day , this being a baby only approx 40 weeks old , we sent a 18 week old baby ,reported 100 metres from our house & loft on the 16th day ,so close ,but was hawked badly ,so I know it can be done with the right blood ,cheers 
They certainly do have to grow up quickly over there mate. Sounds like that is one brave little pigeon and well done to you and your wife for giving it the chance to recover 👏👏